" Baked Ziti Special"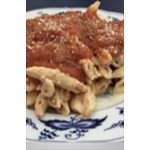 Category: Specialty & Added Value Items
Purchase my Baked Ziti (quart size container with pasta cooked Al dente style, mixed with ricotta and ready to heat and serve. This comes with one pint of my Marinara Sauce and receive a complimentary 8oz. piece of my fresh Mozzarella. Save $7.00 if purchased separately!
Tags
On Sale
Sugar Free
Vegetarian
Available At These Locations
Quinton
Purchase
2.5 % VA food tax